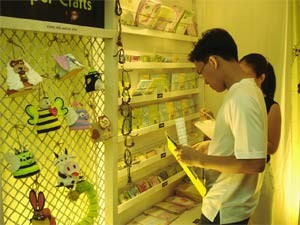 Students are choosing notebooks for the new school year. (Photo:VH)
The 2006 Ho Chi Minh City Book and Education Facility Exhibition started last week has attracted thousands of visitors on the opening day.
This year's fair was organized one month earlier than those of the previous years with an aim to have a better preparation for the next academic year.
The Phu Tho sporting event hall is currently staging the three-day exhibition featuring a wide range of books and educational equipments.
More than 31 suppliers of books and school equipments from domestic market and other countries like Malaysia, China and the UK are present at the event.
A large number of revised textbooks and modern equipments for the next school year are showcased in over 150 stands at the fair.
Many conferences on education and training activities will be held for teachers to learn how to effectively use the visual aids in their teaching.

Speaking at the opening ceremony, Deputy Minister of Education and Training (MoET) Pham Vu Luan announced that revised books for fifth-grade and tenth-grade are ready for the 2006-2007 school year.
The MoET in cooperation with government departments and agencies will make inspection tours to ensure quality, supply and usage of the teaching materials at schools in the near future, he added.
The exhibition opened on May 14, 2006