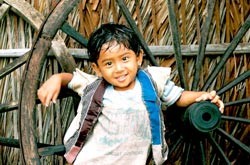 A cowchild by Van Cong Dao.
45 pictures drawn by disadvantaged children in District 4, Ho Chi Minh City will be displayed in an exhibition named "Colors of Life ", held by the Saigon Children's Charity in Singapore from Sep 15 to Oct 2.
As named, the pictures depict different aspects of life and the surrounding world in children's eyes. The exhibition aims at raising fund for the two charities, the Saigon Children's Charity and the Business Times Budding Artist Fund to support disadvantaged kids.
Interestingly, the exhibition is coincidentally taking place with two internationally and nationally important art events in Singapore.
One is the visional art Singapore Biennale, which will be held for the first time from Sep 4 to Nov 21 to showcase various kinds of contemporary collections of 95 artists from 38 countries (including Vietnam) from outdoor art terrace and modern vision to multimedia.
The other is the Singapore Art Exhibition 2006 with 70 showrooms displaying  works created by renowned and new artists from 14 countries in the region from Sep 28 to Oct 2.