Around 30 artists from the Ho Chi Minh City Circus Troupe are in Kazakhstan for performances in cities including Almaty, Astana and Shymkent Karaganda.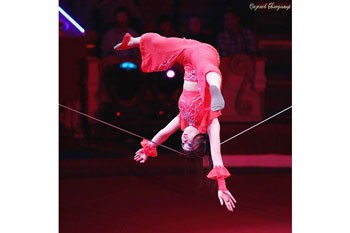 "Day Thep Chung" (slack steel wire) circus act (Source: SGGP)
The circus artists will present to audiences special performances for a period of one month.
One of their outstanding shows is 'Power of the Arm' by Giang Quoc Co and Giang Quoc Nghiep, which won the Silver Lion award on October 31 at the 13th Int'l Circus Festival in Hebei Province in China.
The performance also won three prizes at the 13th International Circus Festival in Italy from October 13-17, which included a silver medal and two minor titles awarded by the world's leading circus groups, Monte Carlo Circus and Cirque du Soleil.
'Power of the Arm' performance got first prize at the Vietnam-Laos-Cambodia young circus talent competition in 2009 and a gold medal at the Hanoi International Circus Festival in 2010.

The 'Day Thep Chung' (slack steel wire) circus act, performed by circus artist Thu Hien and the 'Du Chong Dau' (swinging) act by Hoang Anh and Thu Hiep won the Golden Horse prize (gold medal) at the Almaty-Kazakhstan International Circus Festival in 2012.

Earlier, the act 'Thang Bang Tren Day Thep Chung' (slack steel wire) by Thu Hien won two prizes at the Figueres International Circus Festival in Spain, 'Du Chong Dau' (swinging) by Hoang An and Thu Hiep won the silver prize at the Southeast Asian circus festival, and both circus acts participated in the 11th Moscow International Youth Circus Festival in Russia.

The two performances have officially received an invitation to attend the Monte Carlo International Circus Festival to be held from January 2014.