The HCMC Circus Troupe has arrived in La Habana in Cuba to take part in the 10th International Circus Festival "Circuba 2011" from August 8-14.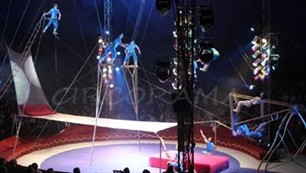 The "Superman Swing" performed by the Ho Chi Minh City Circus Troupe
The Circus Troupe will present "Power of the Arm" performance that earlier won the first prize at the Vietnam-Laos-Cambodia young circus talent competition in 2009 and a gold medal at the Hanoi International Circus Festival 2010.

This is the first time in 20 years that Vietnam is participating in the Circuba Festival.
The festival will be an opportunity for Vietnamese artists to share experiences with their foreign counterparts of the industry.

Cuban performers won a silver medal at the International Circus Festival in Hanoi in 2010.