After the success of a coffee culture week in Ha Noi over November 29 to December 2, a large-scale festival of coffee products and services has opened in Ho Chi Minh City, for the first time, over December 13-16 at Tao Dan Park.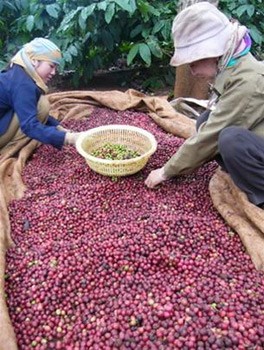 Farmers collect coffee beans in a highland farm
More than 100,000 visitors made their way to the Ha Noi coffee culture week, to revel in the culture of coffee and drink more.

According to the Ha Noi festival's organizing board, hundreds of business deals were also done.

Thus, not a metro to be one-upped in self-PR ops, HCMC is now seeing eight of its own enterprises whip together an HCMC caffeine fest' to mirror the 144 display booths just thrown up by 73 local and foreign companies in Ha Noi, explained Dak Lak provincial Department of Trade and Tourism Director Ly Thanh Tung.

The HCMC festival includes performances by valuable and rare species from the HCMC's ornamental fish association and a painting exhibition featuring more than 100 canvases, 60 of them Dong Ho folk paintings.

Fifty 6-to-28-month-old coffee trees from 20 Dak Lak farms are at the fest' for city-slickers to familiarize themselves, and, as in the capital, events are to include concerts, seminars on coffee, and forums for coffee- fans, experts and artists.

Visitors can learn about the coffee production through documentary films and photos or trying out the complete coffee-making process themselves, from roasting and grinding to packing, under the guidance of coffee connoisseurs and cultivators.

The world's biggest coffee mug, measuring 1.6 meters in height and a full ton in weight is to entertain sightseers. The Vinacafe Bien Hoa Joint-Stock Company's "launch" of the Mug, December 15, is to be attended by representatives of the Guinness Book of Records.