The Ho Chi Minh City Conservatory of Music will celebrate its 55th anniversary with a special concert on September 30.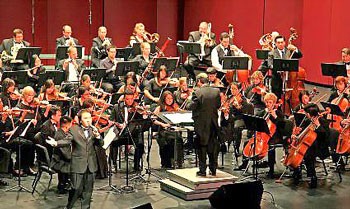 The symphony orchestra of the Ho Chi Minh City Conservatory of Music.
Many generations of artists who have made outstanding contributions in developing the municipal music institute will take part in the event, such as Professor Ngo Thanh, Meritorious Artists Tran Vuong Thach and Hoang Diep.

Many activities will mark the celebrations that will be held from now until December, including classical music concerts, the first International Piano Festival from October 18-23 and the 1st International Guitar Gala from December 16-17.

Founded in 1956, the conservatory was earlier called "Saigon National Music and Drama School" that covered three main fields: Vietnamese traditional music, European music and Vietnamese traditional dramatics.

The school was renamed Ho Chi Minh City National Music School in 1975 and later as the Ho Chi Minh City Conservatory of Music in 1981.

It is one of the three conservatories in Vietnam besides the Hanoi Conservatory of Music and the Hue Conservatory.

The school provides faculty for teaching of theory and music composition as well as conducting; Vietnamese Traditional Musical Instruments; piano; string instruments; clarinet and percussion; vocal singing and techniques of music.

The conservatory has been granted titles of First, Second and Third Class Labor Medals and the third-class Independence Medal.