Ho Chi Minh City's National Historical Cultural Park-Colivan, is in the process of completing the construction and broadening of the park.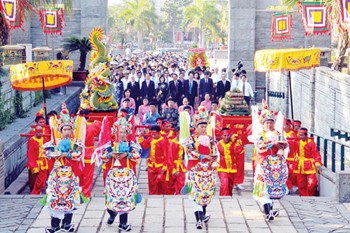 A Tet cake offering ceremony at the Hung Kings Temple in the National Historical Cultural Park, District 9, HCMC (Photo: SGGP)
As of now, the first phase of the project is nearly complete with the opening of the Hung King's Temple for visitors. Several activities have already been hosted here, such as the Hung King's death anniversary and the spring welcoming festival.
The second phase of the project will cover showcasing of the Ancient Age Area, which will relive the glorious history from the time of the Hung Kings in the 3rd century BC to the Ngo Quyen period in the 10th century. The second phase will also feature construction of a Thanh Giong (Saint Giong) legend area, Colivan's gate, square and a friendship garden.
Le Hoang Quan, Chairman of the city Peoples Committee, stressed that Colivan must become a place of education for our rich national history and traditions, for the youth of today. It should also offer to show the country's vivid and diverse cultures to foreign visitors.
The park's management board should verify the types of amusement activities, especially those attached with national cultural traits. Moreover, they should develop the green spaces by planting more trees, making the park an important green lung for the city, he said.