An exhibition on Vietnamese heroic mothers will be held at the Southern Women's Museum in Ho Chi Minh City on December 20.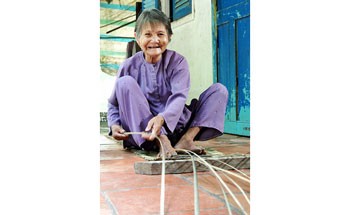 Vietnamese heroic mother Tran Thi Thanh in Cu Chi District(Photo: SGGP)
The exhibition will feature more than 100 photographs and 600 objects related to the Vietnamese heroic mothers and will also honor their skills and responsibilities in the household and their valour in war time.
The exhibits are chosen from over 3,000 objects and photographs of Vietnamese heroic mothers that were collected by the HCMC Southern Women's Museum over the last six months.
Ho Chi Minh City has 2,086 Vietnamese heroic mothers listed, of which only 165 are still alive.
The aim of researching, collecting and displaying objects related to heroic mothers by the museum, was to keep alive the cultural heritage of the past and build an archive of Vietnamese heroic mothers to educate the coming generations.
The event also aims to promote the sacrifices of Vietnamese women, their traditional role and contribution towards national liberation in the eyes of the youth in the country.
There will be exchanges between Vietnamese heroic mothers namely, Pham Thi The, Tran Quang Man, Ho Thi Ha, Nguyen Thanh Tung, Nguyen Thi Da, Son Thi Ky and Le Thi Thu with visitors at the exhibition.
The event will be held at 202 Vo Thi Sau Street in District 3 and will also mark the 67th anniversary of People's Army Day on December 22.