A photography exhibition titled 'Paracel, Spratly Islands- Vietnam's sea, islands' was opened at Ho Chi Minh City Youth's Cultural House on August 10 by Photographer Nguyen A.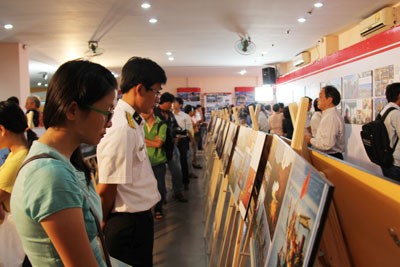 Crowded young people attended in the exhibition on Sunday (Photo:SGGP)
The exhibition displayed nearly 200 photos through 100 stories on maritime soldiers, fishermen, who live and working in Paracel, Spratly Islands to protect Vietnam's sovereignty.

The photos was collected from Nguyen A's visits to Paracel and Spratly Isands since 2010 until now.

During the exhibition, many attractive activities will be organized such as a talking with maritime soldiers, fishermen, who are characters in Nguyen A's photos.

On this occasion, photographer Nguyen A also introduces to readers a new book under same title of ' Paracel, Spratly Islands – Vietnam's sea islands' with more than 1,000 photos.

The exhibition will last until August 16.