Recently, the Ho Chi Minh City Museum held live lessons in traditional performing arts that enthralled hundreds of local and foreign visitors daily.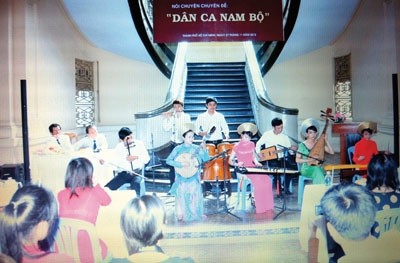 A 'live' lesson featuring southern folk singing at the HCMC Museum
The performances were on air and knock-on-wood instruments and featured southern folk singing styles. 

Phan Quoc Binh, a student of HCMC Culture University, said, "This is the first time I tried knock-on-wood instruments. I was so excited. This activity helps my studies a lot. I have already registered for other activities in southern folk singing styles. Thanks to these activities, the museum is no longer boring."

Another student of the HCMC Culture and Art College, Nguyen Nhu Thuy Trang, added, "The study course on southern folk singing styles at the museum was very impressive and interesting for students. That totally changed my mind about the museum."

Besides the live lessons, the museum also presented a variety of cultural lessons featuring the history of Saigon, antiques and pottery of the south and the Gong Culture of the central highlands.