The UK's all-girl rocker band "McQueen" has arrived in Ho Chi Minh City for the UNITE O7 rock show funded by Tiger Beer. The concert is taking place on February 2 at the Military Zone 7 Stadium.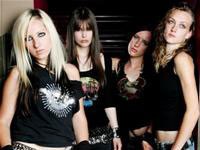 The Mcqueen
Established in late 2003, the Brighton-based McQueen features Leah Duors on vocals, Hayley Cramer on drums, Cat de Casanove on Guitar and Sophie Taylor on bass.

Here's what the UK rock press has had to say about them: "McQueen play filthy punk rock, chock full of the type of catchy riffs and anthemic choruses that the music scene has been lacking so severely recently".
McQueen had been performing alongside such famous rock bands as Viking Skull and The Foo Fighters before releasing their debut album "Break The Silence" on January 22.

Joining the show will be singer Phuong Thanh and rocker Ann Khoa who won the "Most Favorite Singer" prize at the Sao Mai Diem Hen (Morning Star Rendezvous) singing contest organized by Viet Nam Television.

Germany's Krypteria, who performed in the "All for Champion 06" concert last year in HCMC, will also join in the fray.

The show will start at 8 pm at the Military Zone 7 Stadium, 202 Hoang Van Thu Street, Phu Nhuan District.