Lovers of gourmet food can indulge themselves at the annual New Zealand Wine and Food Festival on February 28th at five of Ho Chi Minh City's top hotels.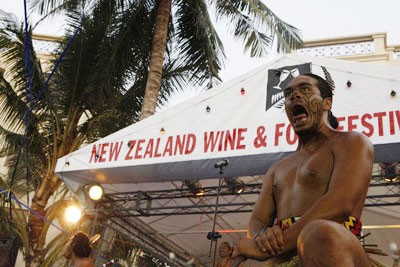 the file photo shows a man making up as an aboriginal inhabitant in New Zealand at the festival held last year in HCM City.
The proceeds from the festival every year go to four charities that have a relationship with New Zealand -- Ba Chieu home for girls (founded by Celia Caughey, former consul and trade commissioner in HCMC), Green Bamboo (supported by Warrick Cleine, chairman of the New Zealand Chamber of Commerce Vietnam), Nguyen Nga Home for the poor in Quy Nhon, and Vung Tau Orphanage.

On offer will be some Kiwi staples like lamb, beef, seafood, and dairy products and some of the country's finest wines. Some New Zealand winemakers will fly to Vietnam just to promote their products.

There will also be entertainment for children, including the Saigon Circus and face painting.

Jazz musicians will perform on the main stage while people eat, drink, and indulge themselves. They will be followed by New Zealand folk musicians.
But the highlight of the evening will be a Maori group flown in especially to perform at the festival. Their two traditional dances will include the world-famous Haka.
This year marks the 10th anniversary of the popular festival.