"Taste of the World Festival," the country's biggest food fest, will be held at the September 23rd Park in Ho Chi Minh City from December 3 to 6.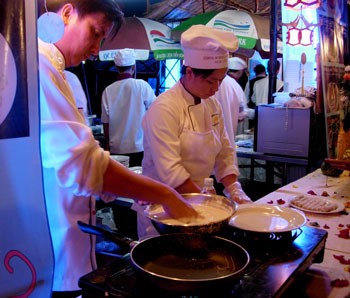 Vietnamese and foreign chefs will take part in cooking competitions.  (Photo:KK)
At the 4th annual festival, 24 international cuisines from Vietnam, Brazil, Germany, Korea, Italy, the US, Russia, Japan, France and other countries will tickle the palate.
It will begin with a parade through Do Quang Dau, Pham Ngu Lao, and Le Lai on December 3.
Besides food, the festival will also feature performances by local and international rock musicians to promote beverages and folk music performances on December 4 and 5.
Visitors can see various cooking styles and techniques and take part in folk games and contemplate the "wonders of the world" made from vegetables and fruits.
Vietnamese and foreign chefs will take part in pizza making and other competitions.
Five teams of cooks from Ho Chi Minh City and nearby Dong Nai and Binh Duong Provinces will set a national record by making the biggest Xoi chien phong  (bloated fried glutinous rice with green bean and coconut juice).
The 2009 Taste of the World Festival will be organized by the city People's Committee, Department of Culture, Sports and Tourism, the HCMC Tourism Association, and Youth Advertising Joint Stock Company.
It will provide hotels, restaurants, and food and beverage makers an opportunity to seek business opportunities and tie up with foreign partners.
Unlike the three previous festivals, there will be no tickets and booths will sell products directly to visitors.
The closing ceremony is scheduled to be held on December 6.