Many cultural activities have been planned in Ho Chi Minh City to commemorate 'Vietnam Reading festival 2011' in April.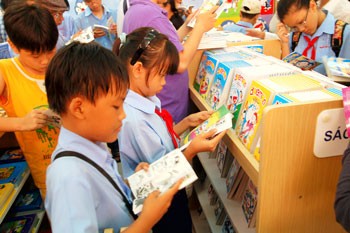 The festival also aims to encourage children in reading. (Photo: Sggp)
A book fair will be held at Le Thi Rieng Park on April 23, co-organized by Thai Ha Book Company and District 10 authorities.
The book fair will have live discussions on the reading culture in Vietnam and provide a guide to reading for young people. People will be asked to contribute books and help in establishing a bookcase for disadvantaged children in the city.
Many books will be on sale at 50% discount at the fair.
Meanwhile, Phuong Nam Culture Corporation will organize many exchanges between readers and writers from April 21 to 24 at company bookstores throughout the city.
Many well known authors will join the event such as Nguyen Dong Thuc, Bich Ngan, Bui Ngoc Tan, Duong Thuy, Phong Diep, Duong Binh Nguyen, Da Ngan, Tran Nha Thuy, Phan Hon Nhien and Mac Can.
'Vietnam Reading festival 2011' will be held at the Literature Temple in Hanoi on April 23 under the theme 'Reading for tomorrow'.

A series of contests will be organized during the festival including book arrangements, drawing, eloquence contest on favorite books, speaking contest on the reading culture, fast reading skills, book exhibitions and book donations to libraries.

A campaign to collect signatures supporting 'Vietnam Reading Day' on April 23 will be one of the highlights of the festival.