A festival of Don ca tai tu or Southern amateur music will take place at the Van Thanh Tourist Area in Binh Thanh District in Ho Chi Minh City on September 24-25.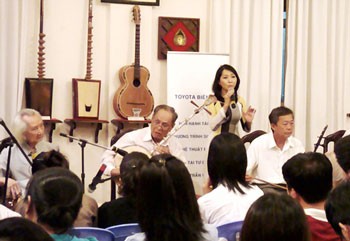 A Don ca tai tu is music performance being held at the home of Professor Tran Van Khe. (Photo: Sggp)
Devotees will have an opportunity to enjoy popular cai luong songs and be drawn in time and space to sounds and images of boats and waterways of the Southern region.
Many artists and musicians from Don ca tai tu troupes from cities and provinces of Ho Chi Minh City, Dong Nai, Binh Duong, Ba Ria-Vung Tau, Long An, Tien Giang, Can Tho, Bac Lieu and Dong Thap will take part in the event.
Professor Tran Van Khe, one of the greatest masters of traditional Vietnamese music, musicians Vinh Bao and Huynh Khai and composer Ngo Hong Khanh will hold talks on Southern amateur music.
The festival aims to keep the tradition of cai luong alive in the community and foster a love of this particular kind of music amongst the people.
Documents of Don ca tai tu have been compiled to submit to UNESCO, for recognition as an Intangible Cultural Heritage.
The event will be broadcast live on HTV1, VTV9, VTV4 channels.