The film director class K3 of the academic course 2002-2005 of Ho Chi Minh City Cinema and Theater College has just introduced 21 graduation works by "8X" directors. K3 is a pilot course of this college with most students in from high school, born in1980 to 1984.

Diversified subjects and styles

The 21 experimental films reflect the same anxieties and meditations of young people. Some of them also express mature thoughts of the twenties, partly reflecting young people's opinions about life through the movie art.

The subjects of the disabled, the poor and children attract special interests. These include "The Word of the Sun" by Le Hai Au, "The Alley" by Do Thi Thom, "The Madman" by Tran Toan, "The Heaven" by Mai The Chien, "Live Kindly" by Quach Nguyet Huong.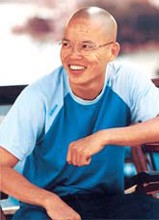 Vu Ngoc Dang, a successful young director, photo:SGGP

Besides, these young directors have audacious films about sex based on realities of life, such as "Heaven, That's All I Needed" by Vo Thi Thach Thao, "The Arch Trick" by Do Truong Vu.

On the other hand, there are other subjects such as the lonely elderly: "Who Wakes Me up in the Sunset?" by Le Thao Huyen, "The Chair" by Cao Quoc Dung, "A Love through Letters" by Nguyen Thuy Hong Van; students' part-time jobs: "The Student" by Le Thuy Bao Anh; family life: "Don't Move" by Lam Minh Khoi, "Division" by Le Thi Kieu Nhi, "The Train of Childhood" by Van Cong Vien; or the phenomenon of girls who earn their living by finding a sugar daddy: "Gygnaeceum" by Pham Thi Hao.

And a story about a capital prisoner who wants to donate his blood to rescue a pregnant woman from fatal hemorrhage: "Sai Gon 5.15 GMT" by Nguyen Vu Linh Van.

Although there are still faults in technique, most films receive a good appreciation of creativity. It shows young directors' diversified looks.

Women directors

It was long thought that rare are women who work as film directors, not only in Viet Nam, but also around the world. For this is a very hard job with regular long-lasting high pressure and intensity.
In class K3, female directors account for an unexpectedly large number (12/21). Their films not only show strong characters, but also express their carefulness and precision, even in ground music selection
A way in the future
On the graduation day when 21 students introduced their films, there are not any sponsors or representatives of film studios. It was really a pity! The 21 films are considered certificates for these young directors to enter life.

From this start, each of them will take a different itinerary on a different way, but they all have same opinions which are creation, challenge and finding a way for themselves and for Vietnamese movies. Di Ferico Fellini, an Italian great director used to say: "Director is not a career, it is a world outlook".