A tourism and culture week themed "Legend of the Central Highlands Elephant" will be held in Buon Ma Thuot City in the Central Highlands province of Dak Lak from December 16-20. Activities will also be held in the city's districts of Krong and Buon Don (Don Village).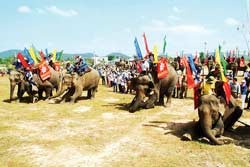 The  Buon Ma Thuot-Dak Lak tourism and culture week aims to honor elephants, the most important animal to the Highlands people.
The event aims to honor elephants, the most important animal to the Highlands people. The organization board said there will be around 20 elephants taking part in a race, swimming competition and more.
Visitors will also have the chance to try local techniques of taming elephants and hunting with them.
The event will feature a series of cultural activities including a fire festival, street fair, wood carving contest, food and trade fair, and folk games and music. A photo exhibition called 'Central Highlands in the past and in the present' will also be on display and the Ede ethnic minority group will hold a religious ceremony on a river.
The inauguration of the 'Green Central Highlands Tourism' program is set to be launched during the week along with a performance by an Asian theater group.
The tourism and culture week is an opportunity for the province to introduce its achievements, tourism potential, and socio-economic development. Officials aim for the event to help the province become the Highlands economic and cultural hub as well as celebrate the 105th anniversary of the establishment of Buon Ma Thuot City.