A historical drama titled Vuong Thanh Trieu Le (Reign of Le Dynasty) performed by Idecaf Theater attracted a huge audience on July 29 in Ho Chi Minh City.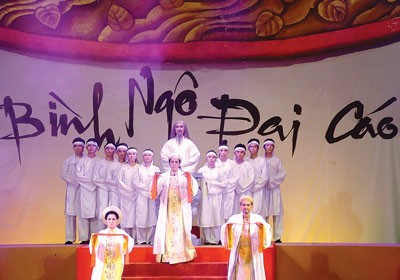 A scene from the historical drama titled Vuong Thanh Trieu Le (Reign of Le Dynasty) (Photo: Sggp)
The play tells the story of King Le Thanh Tong who issued a royal proclamation to vindicate Nguyen Trai, and praised him by saying that "Uc Trai's spirit shines like a star", in one of the most infamous injustices in Vietnam's history.
The incidents relate to the period in July 1442, when King Le Thai Tong paid a visit to the eastern part of the country and rested in the house of Nguyen Trai in Con Son (Chi Linh in Hai Duong). Trai's wife, Nguyen Thi Lo, served the King during the royal stay.
On his return journey to the capital, the King suddenly passed away in Le Chi Vien garden (currently Gia Binh in Bac Ninh Province).
Nguyen Trai was accused of killing the King and was sentenced to death on August 16, 1442. More than 10 years later, the youngest son of King Le Thai Tong, Le Tu Thanh, ascended the throne and named himself Le Thanh Tong, and vindicated the death of the Vietnamese national hero and great poet, Nguyen Trai.
Idecaf is one of the few stages that has spent a lot of money to produce a historical play only for a select audience.
Director Vu Minh, Meritorious Artists Thanh Vy, Thanh Loc, Huu Chau, along with actors  Bach Long, Hoang Trinh, Dai Nghia, Xuan Thuy, Dinh Toan and Duc Thinh have worked hard in their roles.
Performance tickets for the VND400 million stage drama have already sold out.
Bi Mat Vuon Le Chi (Le Chi Garden's Secret) another work related to Nguyen Trai's case, has also drawn a lot of viewers. After the last performance on July 22, the show will again be staged on September 6,7,8,9 to satisfy audience demand.