The historical film 'Khat vong Thang Long' will compete in the foreign-language category at the 84th Annual Oscar Academy Awards at the Kodak theatre in Los Angeles on 26 February 2012.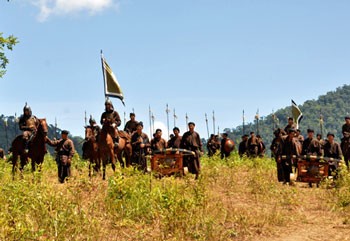 A scene from the film
The film has been directed by Luu Trong Ninh and was nominated over other contenders such as Canh dong bat tan (Floating Lives) and Long Thanh cam gia ca (Fate of a Songstress in Thang Long) to compete for the 84th Oscar awards.

'Khat vong Thang Long' or 'Thang Long Aspiration' won the Silver Kite award in 2010 and two awards of "Best director" for Luu Trong Ninh and "Best actor" for Dinh Toan for his role as King Le Long Dinh.

The film tells of Ly Cong Uan who moved his capital from Hoa Lu (present day Ninh Binh Province) to Dai La Citadel (Thang Long and present day Hanoi) in the fall of 1010. The film was produced to celebrate the 1000th anniversary of present day Hanoi.

The movie has English subtitles and will be screened in cinemas and universities across the US during the film festival.