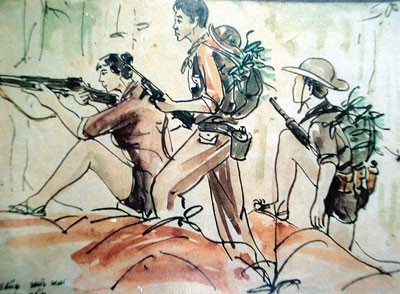 A wartime sketch on display at the Art Museum (Photo: SGGP)
Revolutionary art joined mainstream art in Vietnam in the 20th century and sketches and drawings made during that period have now a priceless historical value.
This invaluable historical legacy of nearly 3,000 sketches, made during the two wars in Vietnam, is on display at the Art Museum in Ho Chi Minh City.
In the 1960s, the entire country was under the turmoil of the Vietnam War, and many artists and sculptors left for the South in their quest to record their excruciating experiences through their creativity.
Each sketch made reflects the revolutionary spirit and love for comradeship and the country.
Despite a limited budget, the museum has very carefully preserved these valuable drawings in special foreign made cartons as a priceless legacy of the historical past of the country.