Japanese photographer Hitomi Toyama has got herself into the Guinness Book of Records with a gigantic photo album titled "Women of Viet Nam".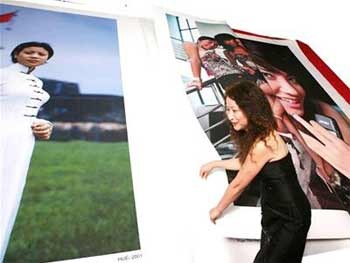 Hitomi Toyama introduces her gigantic photo album
Published by Canon Vietnam, the world's biggest photo album and its 56 pictures are on public display at Hanoi's Daewoo Hotel before heading south to Ho Chi Minh City in May.
It's the second time the avid shutterbug has made it into the record books. Last year, her "Sublimating Emotion" album of 86 Vietnam photos she had taken over 15 years was substantial enough for an entry in the Viet Nam Book of Records.
That first effort took 15 Canon employees three months to finish. The result was a frame-mounted tome weighing more than a thousand kilograms and measuring 259 by 185 centimeters.
In recognition of the achievement, the Vietkings Joint Stock Company under the Viet Nam Book of Records presented a certificate to Canon's Vietnamese subsidiary.
"Women of Viet Nam" weighs about the same but measures an impressive 400 by 300 centimeters. It took Canon one month to create at a cost exceeding US$100,000.
After the public exhibition in Ho Chi Minh City, the album will be presented to the Vietnam Photographic Society.
Since she first set foot here in 1993, Hitomi Toyama has spent much of her life capturing Viet Nam's scenery and people in umpteen thousands of photos.