An exhibition featuring art by Cuban painter, drawer and illustrator Nelson Domínguez is being held at the Ho Chi Minh City Museum on 65 Ly Tu Trong Street in District 1.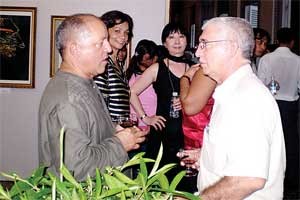 The opening of the exhibition is held at HCMC Museum yesterday.
The display is made up by 36 pieces showing the love of the painter and the Cuban people for Viet Nam during wartime and in the present day. They also show the artist's relationship with men, love and women.
Mr. Domínguez was born in Santiago de Cuba in 1947. He is a multi-faceted artist who has used various art forms such as engraving, sculpture, ceramics and drawing. The artist is also regarded as one of the most important practitioners of contemporary Cuban painting. He has exhibited his work in many places such as France, Japan, Puerto Rico, Italy, Mexico and the United States.
The show is organized by the Consulate General of Cuba in Ho Chi Minh City and the city's Department of Culture and Information.