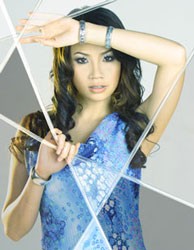 Singer Ho Quynh Huong
The Ho Quynh Huong's live show themed "I am a Student" will take place on May 6, 2006 in Lan Anh Club, Ho Chi Minh City. There's no admission charge for students. In addition, there are guests Kasim Hoang Vu, MTV band, DJ Hoang Anh. The show is directed by Dinh Anh Dung.
The show is expected to trigger a series of other live shows in Ho Chi Minh City, in 2006. In the live show, 15 scholarships (VND1 million/each) will be given to poor students. Ho Quynh Huong says, "I want to share the difficulties that students are facing".

Ho Quynh Huong will perform favorite songs, such as The Second Love Letter, The Dream of My Life, With You I Am Still a Little Girl, Together forever, and so on.