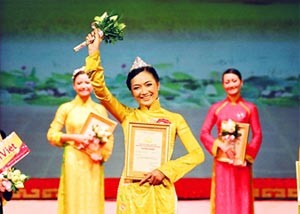 Hoang Thi Le Phuong
Hoang Thi Le Phuong, student of Hue Fine Arts University, won Miss Vietnamese Ancient Capitals 2006. She will receive a cash prize of VND 30 million and free tours to Thailand Royal Palace and Angkor Watt.
The first runner-up and also Miss Talent was Le Thi Thu, student of Hong Duc University in Thanh Hoa Province. The third prize Charming Beauty went to Nguyen Mai Thu, student of Gia Vien High School in Ninh Binh province.

Besides, "The most beautiful face" went to Tran Thi Huong Giang, "The best voice of folk song" to Le Thi Thuy An; "The most beautiful clothes" to Dinh Thi Tuyet Mai.

Le Thi Thu Huong got the prize of Miss Photo; "Miss Intelligent Beauty" went to Le Thi Thuy Trang; "Miss Fashion" to Nguyen Thanh Ha and Dinh Thi Hong Nhung won "Miss Cosmetics".

The contest was organized by the Vietnamese Cultural Heritage Association, the Vietnamese Science and History Association, the Development Preservation and Research Center of National Culture and Hong Quang Joint Stock Company.

It aims to honor cultural heritages and revive historic places, where ancient Vietnamese dynasties set up the capitals, such as Phong Chau-Phu Tho, Hoa Lu-Ninh Binh, Lam Kinh-Thanh Hoa, Thang Long-Ha Noi and Phu Xuan-Hue.

The organizing board also collected VND200 million to support families of typhoon Chanchu victims in the final round. It is one of the cultural activities within the scope of Hue Festival 2006.
Related articles:
- Ao Dai to Be Honored in Hue Festival 2006
- Hue Calls for Investments
- Cultural Heritage with Integration and Development
- Quoc Binh's Collection to Be Introduced in Hue Festival
- International Sculpture Symposium "Hue-Viet Nam Impression 2006" Opens
- First International Musical Composition Camp in Viet Nam
- "Viet Nam's Flying Wings" Kite Festival
Link: www.huefestival.com