Hoang Thuy from Thanh Hoa Province won the Vietnam's Next Top Model 2011 contest on January 8, held at the Phan Dinh Phung indoor stadium in Ho Chi Minh City.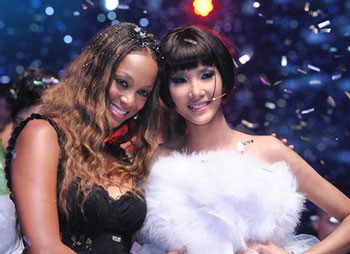 Model Hoang Thuy (R) with American super model Tyra Banks
Hoang Thuy left a deep impression on the jury members at the beginning of the modeling contest with her ideal body measurements of 76-58-85, height 1.77m and weight 44kg.
Make-up artist Nam Trung, was highly appreciated for her well-proportioned face and stature by one of the judges.
She was praised for her performance, make-up and choice of clothing by model Xuan Lan, another one of the judges.
While designer and judge Do Manh Cuong said that he preferred Thuy as the "first face" for opening a show of his collection on the catwalk whether she wins or loses.
The winning beauty will receive a two-year VND1 billion contract with Singapore's BeU Model Company; gifts from Samsung and French cosmetics company Bourjois; take part in a short training program in Paris financed by Bourjois; a two-year White Diamond Membership worth VND300 million by the California Fitness & Yoga Center.
She will also receive a cash prize of VND200 million from Her World magazine, as well as be the face of the magazine.
Hoang Thuy is a second-year student at the Hanoi University of Architecture.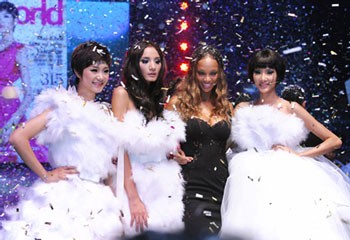 The first and second runners-up Tra My (L) and Le Thuy (2nd, L) with super model Tyra Banks and Hoang Thuy.
The first and second runners-up were Tra My and Le Thuy.
American super model Tyra Banks was a special guest at the event. She arrived in Vietnam yesterday and was present for the final round of Vietnam's Next Top Model 2011. She is the creator and host of America's Next Top Model show, co-creator of True Beauty and hosts her own talk program, 'The Tyra Banks Show'.
Vietnam's Next Top Model is the Vietnamese version of the US reality television show 'America's Next Top Model' by CBS Studios International.

Thousands of young girls between 18 and 25 years of age, of minimum height 1.65m competed in a catwalk contest, presented their talents and skills and participated in an interview with jury members.

The jury selected 15 finalists who then lived together in a house for two months, while cameras recorded their interpersonal relationships.

The show was broadcast live on Vietnam Television, VTV3 channel at 8pm every Sunday. The first show was aired on September 29, 2011.

The show is an opportunity for thousands of contestants to compete for the title of Vietnam's Next Top Model and a platform to start a career in the modeling industry.