The 7th "Vietnam-Japan Cultural Exchange Days" festival opened in Hoi An, in the central province of Quang Nam on August 14.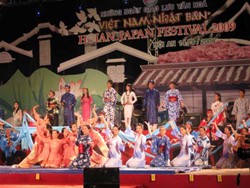 An art performance to welcome the festival in Hoi An, Quang Nam Province, August 14 (Photo: QĐND)
The three day festival is held in the atmosphere of the 10th anniversary since UNESCO recognized Hoi An as a world cultural heritage center. It also comes at a time when the town's Cham Island was recently recognized as a World Biosphere Reserve.
With the theme of peace, friendship and cooperation, the annual festival has been held in Hoi An since 2003.
This year, Japanese friends will meet Hoi An citizens in an exchange program and a special arts program.
Attending the opening ceremony were Vice President Nguyen Thi Doan, Japanese Senator Matsuda Iwao and Japan's ambassador, Sakaba Mitsuo.