Four hundred Japanese tourists, actors, and actresses will arrive for the annual Vietnam – Japan cultural exchange festival that opens in Hoi An on August 14.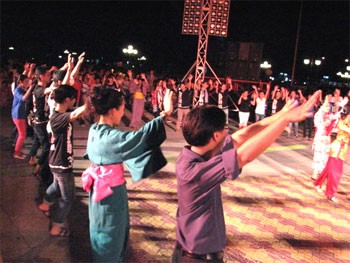 Vietnamese and Japanese youths practice Bon Odori, a Japanese traditional dance, at HCMC Youth Culture House on July 12 (Photo: Tuoi Tre Newspaper)
The three-day seventh festival will feature photo exhibitions, exhibitions of works by painters Tran Duy and Bui Tien Tuan, a talk show with special guest Prof. Tran Van Khe, and music shows featuring popular works by veteran composers Tran Tien, Phan Huynh Dieu, and late composer Van Cao.
There will also be an international conference titled "10 nam di san van hoa the gioi" (10 years of being world cultural heritage) referring to Hoi An's status as a heritage site.
A giant exhibit, "Khong gian van hoa Viet" (Vietnamese cultural space), will feature Vietnam's traditional cultures -- like Dong Son in the north central Thanh Hoa Province, gong cultures of the Central Highlands, My Son, Hoi An -- and vocations like farming silkworms and weaving silk.
Photos of popular sights like Phong Nha cave, Hue, and the My Son Sanctuary will be on show.
The Japanese artists will showcase their culture through events like the Mochi (Japanese rice cake) festival, cuisine shows, tea ceremony, Yukata (a traditional costume) display, music by the band Gypsy Queen and pianist Higuchi Ayuko, and Taiko (Japanese traditional drum) performance.