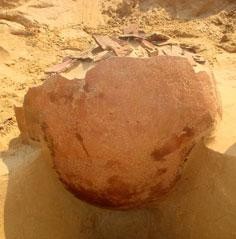 An ancient jar-shaped coffin of the Sa Huynh culture in Hoi An
A pair of gemstone earrings and an ancient jar-shaped coffin will be displayed in an exhibition of Vietnamese ancient arts at the Asia Society Museum in the United States from 2008 to 2010, according to the People's Committee of the central province of Quang Nam.
The antiques from Sa Huynh Culture Museum in Hoi An are dated from the fifth century BC to the fifth century AD.
The Ministry of Culture, Sport and Tourism has approved the lending of these artifacts to the Museum of Asia Association. It is a chance to promote the history and culture of Hoi An, a UNESCO-listed heritage site.