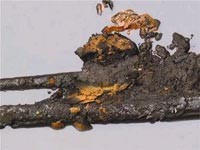 The remains of a wooden stake unearthed in Hoi An
Workers laying underground pipes and power cables in Hoi An have discovered thousands of pieces of pottery dating back to the seventeenth century under the streets of the historic town on the central coast.
They also uncovered dozens of wooden stakes which are believed to be the remains of a sluice two meters below the surface of Le Loi Street. Two hundred years ago, according to historical sources, this strip of land formed the northern bank of the Thu Bon River.
To date the archeologists have unearthed 2,401 pieces of glazed terracotta and 2,625 of porcelain along with some Japanese Hizen terracotta and 11 Chinese coins.
They believe there is plenty more to be found and are continuing their digging. The relics will be exhibited in a museum the local authorities are planning to build and will provide a snapshot of the town's past.