The Prime Minister has asked ministries, sectors and localities to step up measures to ensure traffic safety and social order while meeting the travel demands of passengers during the upcoming national holiday of National Independence Day (September 2) and the new school year (September 5).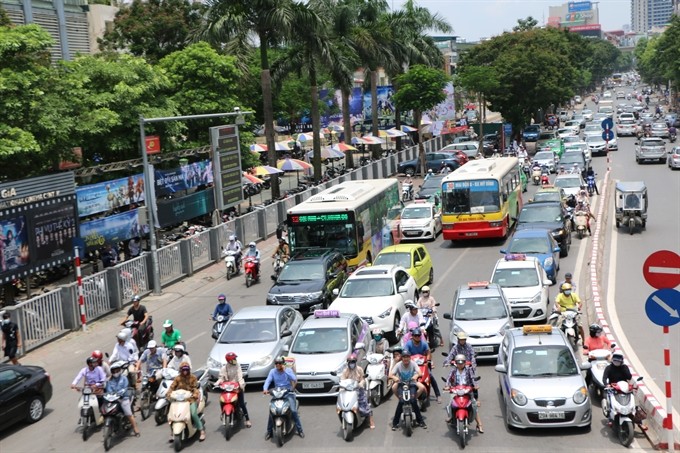 Traffic on Huỳnh Thúc Kháng Street in Hà Nội. Traffic safety and social order must be ensured during the upcoming national holiday, said Prime Minister Nguyễn Xuân Phúc. - VNS Photo Đoàn Tùng
Agencies were required to strengthen supervision of road sections along the key highways, particularly the routes to enter in and out of Hà Nội and HCM City in order to prevent traffic jams and accidents.
The Prime Minister has also directed ministries and sectors to encourage the use of public transport instead of private vehicles and to step up dissemination about traffic safety on social media.
He also asked the Ministry of Transport to direct units to coordinate with the authorities of the relevant ministries, sectors and localities in examining accident-prone sites and to take actions to correct them. On-going transport infrastructure projects were required to ensure safety during their works in order to prevent accidents among road users in those areas. He also asked that inspections of the operation of means of transport on roads, inland waterways and aviation also be strengthened.
Activities to increase people's awareness of traffic safety and reduce accidents during the holiday and new school year were also required to be improved.
Violations of traffic regulations, particularly those concerning speed, alcohol use, overloaded trucks and vehicles with expired registrations will be strictly fined.
Hotlines should be launched to receive feedback from citizens and to provide timely assistance or consultation on traffic management. In order to ensure traffic safety, Hà Nội Police on Thursday deployed a force to inspect and handle violations of traffic regulations.
The transport inspection force was assigned to co-operate with the transport police in issuing measures to cope with "snail speed" buses and inter-provincial coaches that pick up and drop off passengers at unauthorised stops along roads.
Coaches found to be in violation would be strictly punished. Major Trịnh Tiến Thành said the police force would be deployed to regularly patrol, detect and deal with violations.
To meet increasing demand from passengers during the upcoming holiday, many transport businesses have also set up plans to put more coaches into service.
No fee hike
The number of coach commuters is expected to increase on National Day, according to representatives of three major coach stations in HCM City.
Travelling demand for the three-day holiday starting on Friday (Sept 2) is expected to peak from Thursday afternoon to Friday morning.
Authorities at Miền Đông (Eastern) Coach Station said they expected a 3-5 per cent increase in commuters compared to the same period last year.
The station is expected to serve 27,000 passengers on Thursday, a rise of 20 per cent compared to last year, said Thượng Thanh Hải, deputy general director of the station.
More than 6,000 coaches will depart for the Cửu Long (Mekong) Delta, Central Highlands and popular tourist attractions in the southern and central provinces such as Vũng Tàu, Phan Thiết and Nha Trang.
Ticket prices will remain unchanged.
During the holiday, the number of passengers at An Sương Coach Station is expected to increase by 10-20 per cent on the route between HCM City and Tây Ninh Province compared to normal days.
Miền Tây (Western) Coach Station authorities forecast a surge of 20-25 per cent in the number of passengers travelling to Mekong Delta during the holiday compared to the same period last year.
The number of passengers would likely reach 40,000-42,000 on September 2, with a majority of passengers travelling from HCM City to Cần Thơ City and Tiền Giang, Bến Tre, Trà Vinh, An Giang, Kiên Giang, Cà Mau and Bà Rịa-Vũng Tàu provinces.
Trần Văn Phương, deputy general director of Miền Tây Coach Station, said that transport enterprises must register with the station's authorities for holiday surcharges on coach fares. No enterprise has announced surcharges.
The city's Department of Transport has been working with the Department of Finance to supervise coach fares.