Hollywood movie director Phillip Noyce will travel to Vietnam to take part in the '48 Hour Film Project Vietnam 2012' (48HFP) as one of the judges from November 5-8.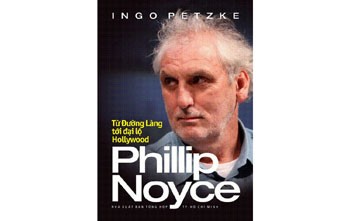 Vietnamese edition of the book 'Backroads to Hollywood' was released in Vietnam
This is the second time that the director, who became famous with blockbusters such as Salt, The Quiet American, The Bone Collector, Dead Calm and Patriot Games, will take part in the TV-Video clip making contest in Vietnam.
Australian-born film director Phillip Noyce came to Vietnam last June, to introduce the Vietnamese edition of Ingo Petzke's book titled 'Backroads to Hollywood', based on his life and career.
The director held exchanges, delivered a lecture and shared his experiences on filmmaking and audiovisual communication with Vietnamese filmmakers, students and movie lovers.
Submissions for 48HFP Vietnam 2012 were held in Ho Chi Minh City from September 14-16 and in Hanoi from September 28-30. The films are to be short and a minimum of 4 minutes and a maximum of 7 minutes. All creativity—writing, shooting, editing and adding a musical soundtrack—must occur in a 48 hour period.
Launched in 2010 in Vietnam, the third contest has attracted around 70 teams this year.
Phillip Noyce will attend the premiere screening and awards ceremony from November 5-8.