Employees of Vietnam Auto Part in the northern province of Hung Yen would have opportunities to attend "Eco Mileage Challenge" contest in Japan in early October 2011 after they won the contest.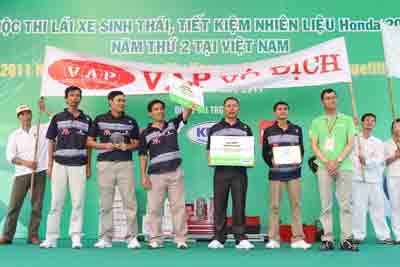 The winners happy after the contest
Honda Vietnam organizes the official race of "Eco Mileage Challenge" 2011 with expectation of raising people's awareness of reducing emission and environment protection.

"Eco Mileage Challenge" started in 1981 in Japan by Honda Motor with initial name "Econopower" contest. It was expanded later to Thailand, China and Vietnam. This is the second year this contest has been conducted in Vietnam, following the success of 2010 contest.

Eco mileage Challenge is the contest of fuel efficiency with the theme: how far can you go on a liter of gasoline? At Eco Mileage Challenge, vehicle born of some clever ideas and featuring some very special technological innovations push the fuel efficiency envelope. 

The same as in other countries, in Vietnam, teams dedicate and generate their technical ideas on Honda motorcycle engine, aiming for maximal fuel economy.  On the days of the race, they ran their creations on the track, seeing whose vehicle would travel the farthest on one liter of gasoline.

Eco Mileage Challenge is a chance for competitors to experience the joy of creating and taking on new challenges in addition to raising awareness of energy efficiency and environmental issues.

The contest was divided into 2 types of competition: Original machine type and Market type. For the original home-made vehicle (Original machine):  Honda Vietnam will provide participating teams with the latest version of 110cc engines, which are preeminently fuel-economizing and currently equipped on Wave 110 model. Participating teams are free to create vehicles up to their own ideas but they need to comply with some technical rules.

For the mass-produced motorcycle (Market type): Participants will execute technical advancements to achieve the highest fuel efficiency level on the models of Wave 110S/Wave 110RS/ Wave 110RSX of Honda Vietnam.

The 2nd EMC Vietnam has already been launched by Honda Vietnam from 1st Apr 2011. This year contest has attracted 56 teams nationwide, nearly double more than last year, including 27 teams in Original machine type and 24 teams in Market type.
Especially, this year the number of teams joining Original machine type from leading universities of technology increase a lot, which is accounted for 18 teams, much more than the number of 2 last year.

In Vietnam, in 2010, there were 32 teams participating in the very exciting race. The record was 320.41 km/l which is very good result for the first time. The winner of Vietnam had a precious chance to join Japan contest together teams from Japan, Thailand and China.

The current record is 320.41 km/l. It is really challenging Vietnam "racers". However, with "The Power of Dream" and "Taking Challenge", nothing is impossible to get over. 
 
Attended the event were Chu Manh Hung, head of the Ministry of Transport's Environment Department, and his deputy, Nguyen Huu Tien as well as Honda representatives.