Hong Kong star Raymond Lam hosted a press conference on July 20 at Caravelle Hotel before his live concert on July 22. Taking the opportunity, SGGP caught up with the singer.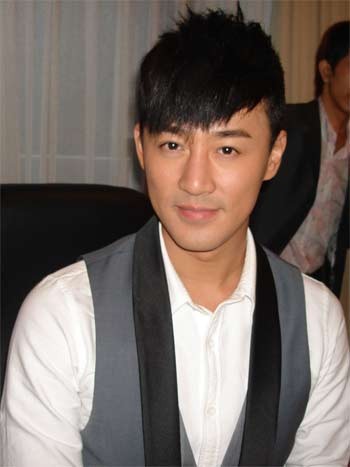 Raymond Lam (Photo: Truong Son)
SGGP: Being a star in both acting and singing, you probably do not have not much free time.

Raymond Lam: I can manage my time schedule quite well. I also receive a lot of encouragement from my family. My family works in business and they don't have much time for each other. But we all understand that, and we still encourage and take care of each other in other ways.

People believe that a good appearance helps an actor or singer a lot in their career. What do you think?

Generally, I think to be either an actor or a singer, the most important thing is performance. You need to study a lot from each other and keep training yourself. That would be a very helpful factor to help you gain success.

But, I also agree that good appearance somehow will help you. Thanks to a good appearance, more people will notice you and you will have more opportunities to work.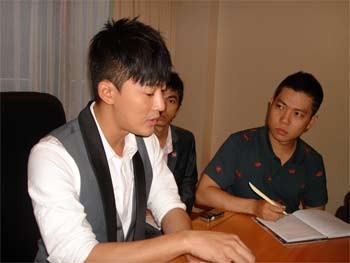 Raymond Lam during an interview with a reporter (Photo: Truong Son)

When deciding to join both the acting and singing fields, did you ever worry that you could not finish all your work perfectly?



At first, I thought people can do a lot more than they can think. A few years ago, I tried my best in acting. This year, I focus on singing. I'm so thankful to TVB [Hong Kong-based TV channel] for their understanding and arranging the time schedule for me to be able to visit and perform in Vietnam. So, I think what you need is support and good teamwork.

Three days is quite short for all the preparations of a live concert.

As I said, I had a live concert in Hong Kong in June and learnt a lot of experiences from that. In Vietnam, some of my songs from TVB's series became popular and, probably, I will perform them in the upcoming concert. I always tell myself that I have to do my best for the concert on July 22. Please keep encouraging and supporting me. Thanks.

A personal question: there is rumor that you're in love with Linda Chung.



It's very common that there are some rumors that love appears between the actor and actress in a series or movie. I had an opportunity to work with Linda in two series, "Heart of Greed" in 2007 and "Moonlight Resonance" in 2008.

But, I cannot understand why, as the series finished long ago, but the rumors still keep spreading more and more. Maybe our characters from two series really impressed the viewers. However, rumors are only rumors. On behalf of myself, I really expect another chance to work with Linda in the coming time.

Your discography noted that besides many TV series, you have only been in one movie, "Stolen Love". Why? Will you consider more movies in the future?

I have received lots of invitations from various movie directors, but, due to a current busy schedule, I barely find free time for those. At present, I'm joining a new series by TVB. After the concert in Vietnam, I will go back to Hong Kong on July 24 to continue shooting the film. Possibly I will reconsider the invitations, but not until at least October.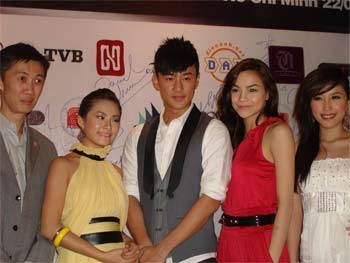 L-R: Funehouse's GM Daniel Chui – Luong Bich Huu – Raymond – Ho Ngoc Ha – Bao Thy, posing together at the press conference on July 20 (Photo: Truong Son)