The beauty and performance skills are so important to reach world's class level of the international beauty contests.
What did we get from international beauty contests? There is almost a common answer:"We participate in the competition just for learning and introducing the images of Vietnamese country, people and culture". Obviously, we have been very patient in sending our beauties to many beauty contests such as Vu Huong Giang ( Miss World), Thanh Hoai (Miss Universe), Nguyen Hong Ha ( Miss Asia), Nguyen Thi Diep (Miss Pearl) etc. However, we have never reached the top. Viet Nam Super Models, said .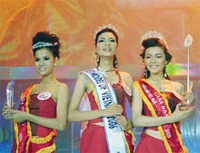 Viet Nam Super Model Contest 2005, photo : SGGP
Organizing the domestic beauty contests is a very essential need in a developing society but we should avoid the premature decision in sending our Vietnamese beauties to the international competitions without any good preparations in knowledge. Whoever wants to represent her nation in the international beauty contests has to satisfy the requirements of beauty and knowledge. We do not lack good looking and tall girls but knowledgeable ones are relatively rare.
Back to some domestic beauty contests, no matter what titles the competitors win, Miss or Super Model, they are instructed carelessly, just enough to do some performance skills, or more than that, some specific talents like dancing, playing musical instruments, singing and send to contests hastily.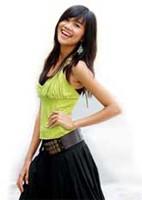 Thanh Hanh model, photo: SGGP
Ms Thuy Hanh, the director of Elite, which has sent a lot of beauties to the international beauty contests, explained: "Nobody supports us. How can we compare with US, France, Venezuela, China, Thailand, Philippines, which are very good at training beauties while we have just done this work for 4 years? Some countries such as Venezuela, Philippines have 50 years of experience in Miss World Contests. They pay a great attention to participating in those beauty contests because it is a chance to introduce and advertise their countries to the world. They have their own professional process which specializes in training Misses and super models. Meanwhile, in Vietnam there are no rules in choosing beauties for such important competitions like Miss World, Miss Universe or International Super Model. Therefore, there is no financial support for the work. The Press also criticized the way we are nominating candidate for the contests. However, for a long term plan, not only our company' effort but the support of Government is also needed"
With a lack of money, formal training and necessary knowledge, competing against other hundreds of beauties around the world is really too hard for Vietnamese beauties.
Thinking of other contests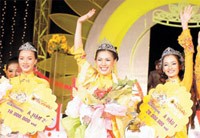 Miss Photo Viet Nam 2005, photo: SGGP
We need to have a concrete plan from seeking, discovering to training beauties. Seeking and discovering are not so difficult because there are always many beauty contests every year like Miss Vietnam, Miss Photo Vietnam, Vietnam Super Model Contest, Miss Ao Dai, Miss Student, and Miss Mekong Delta. However, the second part of the process, i.e. training, is done carelessly. Professional training in world class standard requires a good teaching staff and enough time for preparation.

The case of Thanh Hoai, who participated in the Miss Universe Contest ,should not happen again. She knew that she was going to Philippines only 2 days before departure.

Nguyen Phuc, director of model training company PL, commented: "Actually we go to some beauties contests just for integrating with the world. We have not reached world class level yet in term of beauty and performance skills. When we sent competitors to those international contests, we had too little time because there had been no concrete plans".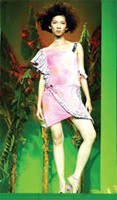 Xuan Lan model, photo: SGGP
Ms Thuy Hanh added: "We master the process of training professional models from the curriculum of Elite but we can not practice in Viet Nam because of the lack of money and teaching staff. However, when sending competitors to the beauty contests, we do instruct them some skills such as walking, answering the interviews and English. We have to work in advertising and event-making to have enough money for sending our beauties to the contests"

Until now, for 5 year of integration with many times participating in both formal and informal competitions, Vietnamese beauties have never won any titles. They take it as a free traveling tour.
Discovering and training beauties in both skill and morality should be carried out immediately. Vietnamese beauties who want to succeed in international beauty contests have to step on a planned way.
Courses:
I. Professional Training:
Body Training, Walking Training, Public Relations, Courtesy, Art Shaping, Knowledge on secretary, Fashion, Painting, Making-up, Advertisement, Colors, Performance, Photograph, Music, Marketing, Literary, Eloquence and Dance etc.
II. Official Educations
Moral Character, political economy, English, geography, tourism, hotel management, social contact, etiquette and sports etc.
(Source: www.modelschool.cn)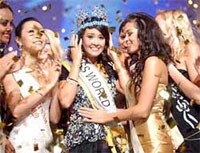 Vu Huong Giang beauty (left) at Miss World 2005
Thanh Hang (Miss Photo Vietnam 2002)
In my opinion, in order to reach the top in the international contests, apart from beauty, Vietnamese girls should be more confident with more social knowledge. Besides, a little of luck is also necessary.
Xuan Lan (Asia Super Model)
We send our beauties to the contests without good preparation. It is important to distinguish between a super model and a Miss. Every competition has its own characteristics, requirements and the marking criteria. We cannot send a Miss to the super model contests and vice versa. Some countries prepare for their beauties very carefully, may be in one year, while our preparation is carried out in a few weeks, in some cases only a few days. It is no surprising that cannot win any title, looking at what we invested. Some competitors have gone to the international beauty contests just because they have some good relationships, not real ability