The Gold Disc Awards given to winners of a music contest on Ho Chi Minh City Television's Channel 7 will see several changes to its format this year, Ton That Lap, vice chairman of the Vietnam Association of Musicians and Composers told the media April 20.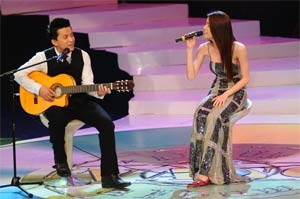 Lam Truong (L) and Ho Ngoc Ha will again perform a duet at the "Golden Disc Awards" live show on May 11 (Photo: Courtesy of Cat Tien Sa)
There will be two judges' panels from this year. The first, consisting of 13 members, will choose five albums out of the 10 nominated by the organizers every month. 
The second group consisting of five jury members will judge the singers at the monthly live show and choose the best.  
Both juries will score the five albums every month, with the first group marking out of 70 and the second out of 30 to arrive at the final score.  
The wining album will get VND10 million (US$560) in cash, a gold cup, and prizes from the sponsor.  
The contest retains the award for "Most favorite album" voted by audiences which will also get all the other goodies as the winning album voted by the jury. 
The final change is Viettel Imusik, a provider of ring tones, ring-back tones, wallpapers and screensavers for mobile phones, taking over as the new sponsor. It belongs to military-run mobile operator Viettel Corporation.  
The sponsor will choose some good songs from the contest to add to their tones library. 
Every month a singer/music band will perform two songs from their selected albums.  
The first live show is on May 11. 
All the shows will be broadcast live on channel HTV7.  
Cat Tien Sa Media is a co-organizer of the contest together with HTV.