Delegates spoke about the efforts taken to conserve the Hue Royal Citadel at a meeting Thursday to mark the 15th anniversary of UNESCO's recognition of the imperial city as a world heritage site.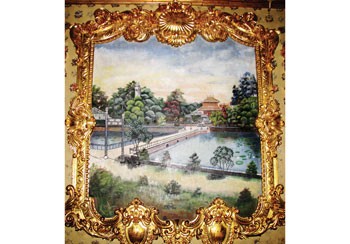 A newly restored wall painting at the An Dinh Palace in Hue.
The Hue relic site was badly damaged during the war but more than 100 pieces of architecture have been restored in the last 15 years.
Around 30 were done at a cost of over US$6 million provided by the Government and international organizations.
Vibeke Jensen, head of UNESCO's Ha Noi Office, said the site has gone from being in urgent need of restoration to a state of sustainable development.
She urged local authorities to focus on problems in protecting the historic site, using the historical and cultural site sustainably for tourism development, new constructions that pose a risk to the citadel's foundation, and enhancing awareness of its historic and cultural values.
She praised Thua Thien-Hue Province's efforts to restore and preserve the site and asked authorities to submit a paper to UNESCO to recognize it as a world heritage cultural landscape.
Deputy Minister of Culture, Sport and Tourism Tran Chien Thang said conservation of the Hue relic site is one of the Government's top concerns.