The performance of the "Royal Palace by Night" Gala on the evening of November 21 officially started the second Hue Cultural Week Program in Hanoi.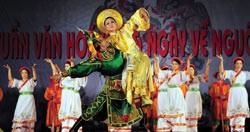 A royal dance performed during the gala
During the gala, more than 100 actors, actresses and artists from Hue City of Thua Thien Province delivered unique and impressive performances including royal dances, court music, Hue classical drama and Hue folk music.  
Apart from the gala, Hanoinese will also have chances to taste Hue cuisine, to enjoy exhibitions of collections of royal antiques, royal carvings and photos of Hue in the past and at the present.
Besides, a workshop discussing opportunities and challenges facing Hue's heritage in international integration was organized on the morning of November 21 where experts highly appreciated Hue's achievements in preserving and promoting its heritage over the past 15 years.
They also suggested protective measures to preserve the imperial city in the coming future in the context of rapid urbanization. 
Over the past 15 years, local authorities have worked with cultural officials to restore nearly 100 historic sites as well as conserved hundreds of other valuable facilities in Hue.