Yesterday, an ao dai (Viet Nam's traditional long gown) fashion show took place in the former imperial Hue city as part of an ongoing biennial Hue Festival and attracted around 10,000 visitors including thousands of foreign tourists.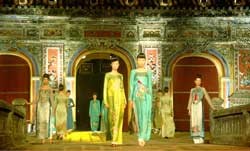 "Vestiges of old times" on show at Hien Nhon Gate
Nearly 100 models catwalked in front of the Hien Nhon Gate inside the Hue citadel, displaying 260 designs by 12 famous designers across the country.
Standing out from earlier festivals, this time 10 teens and 18 women aged 40 up to 75 also posed as models.
The theme of this year's collection - Dau xua (vestiges of old times), is Hue's "an" and "trien" (official royal seals and stamps), which are thus ornately decorated on ao dai, reflecting the beauty of Hue's tangible and intangible heritages and reminding beholders of opulent royal ladies of the past.
According to the organizing committee, nearly 5,000 tickets had been sold out 5 days before the show and over 200 police officers and 10 fire trucks were mobilized to ensure security and safety.
In related news, an exhibition featuring pictures drawn by children ended yesterday with nearly 600 out of over 2,000 pictures sold for US$20 each. The proceeds will go to supporting heart surgeries for disadvantaged children while the remaining artworks will be displayed in Ho Chi Minh City during the upcoming Tet Trung Thu or moon festival.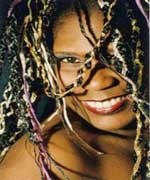 CoCo York
Meanwhile, down in HCMC, internationally known American blues and jazz singer CoCo York held a memorable show at the Conservatory of Music on the same day. On stage was also Vietnamese renowned saxophonist Tran Manh Tuan.
Born in Arkansas, CoCo York has traveled the world and performs regularly in the US where her name has become synonymous with jazz. In 1997, she received one of America's highest honors when she was invited to sing at the presidential inauguration.
Since then, CoCo has proven to be a consummate cultural ambassador and has acquainted audiences in Africa, Europe, Asia, and Australia with American music traditions.