The festival management board has announced that the Traditional Crafts Village Festival 2011 will be held in the ancient capital of Hue from April 30 to May 3.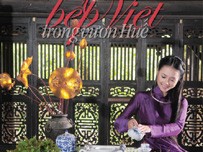 Poster of the 4th Traditional Craft Villages Festival 2011, to take place in the ancient capital of Hue from April 30 to May 3
The festival theme will be "Vietnamese Kitchen in Hue Garden" and will highlight the culinary and bonsai culture of Hue.
The festival will introduce the Hue imperial palace cuisines and other traditional Hue dishes including vegetarian dishes, royal dishes, sweet soups, rice dishes and many kinds of cakes.
Cooks from various pagodas and Buddhists will cook the vegetarian food.
Besides, visitors will also have the chance to enjoy some local dishes like heo nuong lu (baked pork in a jar), chao luon dau xanh (eel porridge cooked with green peas), oc buou hap hem (medium-sized edible snails steamed) in the southern cuisine pavilion.  While enjoying these culinary treats in the pavilion, festivalgoers can delight in performances of don ca tai tu (southern amateur music), Khmer dance and folk music.

The festival will introduce hundreds of specialty dishes from the south, Hanoi and Hue. Native bonsai plants from all across Vietnam will be on exhibit for plant lovers.

Apart from the cultural cuisine, the festival also introduces many kinds of ornamental trees from different localities nationwide with themes like "Art ornamental plants and flying emotions" and "Hue- a green city".

During the event, diverse community activities will be held, such as games for secondary school students, a "happy meal" contest for couples and an interesting trekking hike.

The event will include street music, artistic kite performances, folk games, a chess contest and an exhibition of ornamental trees and culinary arts along the Phu Van Lau Park and along Nguyen Dinh Chieu Street.  Many artisans from ornamental tree clubs throughout Vietnam will join the event.

The biennial festival will provide a good opportunity to promote the land and the people of Hue in particular and Vietnam in general, to both domestic and foreign visitors.