The Hue Festival ended in a burst of colour and light with a closing ceremony of fireworks and lanterns floating on the Huong River .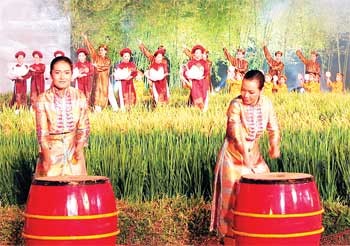 Hue Festival organized every two years will return in 2010.
The closing ceremony began with a show of 46 women modeling Viet Nam's traditional ao dai dress who paraded alongside visions of Hue imperial palaces, natural scenes and the beauty of Hue people projected on a large screen.
Speaking to a packed crowd gathered at the Ngo Mon gate of the ancient citadel, Chairman of the People's Committee of Thua Thien-Hue province, Nguyen Ngoc Thien, said the Hue Festival has brought new vitality to Thua Thien-Hue and the former imperial capital of Hue .
The festival is a chance for Hue to prove its position as a cultural and tourist centre and a festival city of Vietnam , the chairman said.
The Hue Festival took place from June 3-11 showcasing 62 art troupes from 22 countries under the theme "Cultural Heritage with Integration and Development."
The festival featured special art performances and traditional rituals, and attracted more than 2 million visitors, including 30,000 foreigners.
  
Related articles:
Hue Festival: 10,000 Show Up for Ao Dai
Hue Festival Opens Majestically
Records to be Recognized at Hue Festival
Opening Ceremony Held for Hue Festival
American Jazz Star and His Big Band to Perform in Hue
Famous American Blues and Jazz Singer to Perform At Hue Festival
Hue Festival 2008 with Historical Festivities
1,100 artists to perform rituals for Hue Festival
Hue Restores Pottery Village for Festival
Hue Festival to be Promoted on Trains