The opening ceremony of Hue Festival 2008 took place on Tuesday in Ngo Mon Square. Pomp and color on a majestic scale was used top promote the unique cultural heritage of Hue and Viet Nam.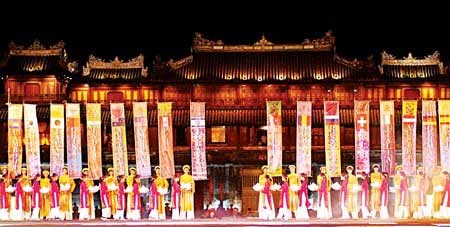 The opening ceremony of Hue Festival 2008

The event marks the 15th anniversary of Hue's recognition as a world cultural heritage site and the fifth year since Nha Nhac, the royal music of Hue, was recognized as a Masterpiece of Oral and Intangible Heritage of Humanity.
"With the theme 'Cultural Heritage with Integration and Development', Hue Festival 2008 honors special cultural values of Hue and Viet Nam and the strengthening ties and integration between Viet Nam and countries throughout the world and promotes economy", said Mr. Nguyen Ngoc Thien, chairman of the People's Committee of Thua Thien Hue Province.

More than 1,500 local and foreign artists from 62 ensembles and over 20 countries, including Australia, Cambodia, China, France, Indonesia, Italy, Japan, South Korea, Romania, Switzerland, Thailand, Britain, the US, Belgium, Germany, Spain, Russia, Romania, Austria, Turkey, Peru, Israel, Cambodia, India, and the Philippines will offer music, dance, drama, circus and installation art, dance and music shows during the nine-day Hue Festival.

The festival will include King Quang Trung's Enthronement Ceremony, Heaven Worshiping Ritual at Nam Giao Platform, the Military Doctorate Examination used in the Nguyen Dynasty, ao dai fashion shows, the Land Worshiping Ritual at Xa Tac Platform and, on the closing day, the Discovery Legend of Huong River.

The opening ceremony was attended by Deputy Prime Minister Nguyen Thien Nhan and other senior party and state officials together with ambassadors, general consulates and representatives of other nations in the region, including China, Laos, and Thailand and others.