A display booth presenting the ancient culture of Hue at the Japan Association of Travel Agents (JATA) Tourism & Travel Forum in Japan attracted thousands of Japanese and international visitors.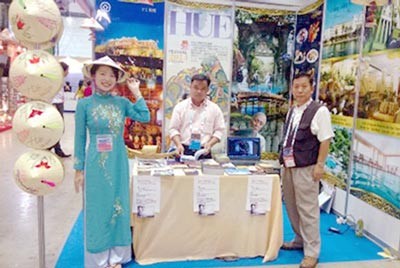 Vietnam's pavilion in the JATA Tourism Forum and Travel Showcase 2013
Vietnam's participation in the forum, which was held on September 13-15, was distinctive in view of the wide turnout by visitors to its pavilion featuring the biennial Hue Festival in Hue City of Thua Thien-Hue Province. The country expects to draw visitors to the nation's biggest cultural event.
JATA Tourism Forum and Travel Showcase 2013 attracted 80 countries with about 1,000 booths. The annual affair aims to meet a goal for igniting demand in the tourism industry. The event has expanded in scale in response to ongoing changes in the marketplace, now offering more business meetings and opportunities and for the public to learn about travel.
So far 26 art troupes from 23 countries around the world have registered to participate in the biennial Hue Festival in Hue City in Thua Thien-Hue Province, scheduled to take place from April 12-20 next year.
The eighth Hue Festival will introduce to visitors a series of cultural activities such as Nam Giao Offering Ritual, Royal Night, Ao Dai Festival, Oriental Night, musical performances, folk games, puppetry, martial arts and dance performances during the event.
Some highlights will be 'Huong Xua Lang Co' (Fragrance of ancient village) in the 500-year-old Phuoc Tich ancient village in Phong Hoa Commune in Phong Dien District, and real replicas of ancient markets of Thanh Toan Tile Bridge across the Nhu Y River in Thuy Thanh Commune.
Arts honoring traditional, historical and cultural values including Nha Nhac or royal court music of Hue, royal singing and dancing, Hue singing, and Thua Thien-Hue folk songs are expected to leave a deep impression on visitors.
Nha Nhac or royal court music of Hue was recognized by UNESCO as an intangible cultural heritage in 2003, and has been named as an Intangible Cultural Heritage of Humanity.
Meaning 'elegant music', Nha Nhac refers to court music performed at annual ceremonies, anniversaries and religious events, as well as special events such as coronations, funerals or official receptions.
Although its roots can be traced back to the 13th Century, Nha Nhac reached maturity in the royal palace of Hue under the Nguyen Dynasty (1802-1945).