The special promotional program called 'Golden Tourism Month' has been kicked off in Hue from April 22-28, announced by the Hue Monuments Conservation Center.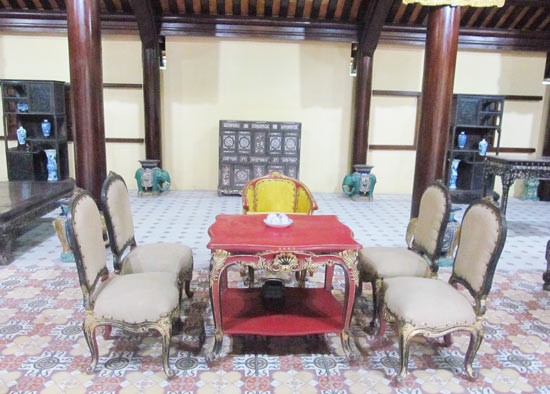 A living room furniture set in the Queen Mother's guest room under the reign of King Khai Dinh (Photo: SGGP)
The event aims to mark the 40th anniversary of National Reunification (April 30) and Hue Traditional Craft Festival 2015.

Hue will offer free entrance tickets to its imperial palace and monuments during the promotional program, such as Thieu Tri, Minh Mang, Khai Dinh, Gia Long, Tu Duc mausoleums; An Dinh and Hon Chen Palaces.

Visitors will also have a chance to enjoy guided tours free-of-charge and 10-30 percent discount on sales at ceremonial music performances, photos and electric car services.

The program will have also a series of activities, including exhibition on Queen mother's guest room for visiting friends and relatives in Dien Tho Palace; art and music performances; displays on Vietnamese ancient jewelries, books presenting Hue royal palace and Nguyen Dynasty's heritages; and inauguration of light system in the third floor of Ngo Mon Construction.

The 2015 Hue Traditional Craft Festival, aiming to develop craft villages and expand tourism sector is set to open from April 29-May 3, 2015.
The event is estimated to attract 40 well-known craft villages across the country. Artisans will display their wares, ceramics, brocades, silk, terracotta, paper flowers, lanterns, silver and gold jewelry.

As planned, the traditional handicraft villages of Gyeongju city (from the Republic of Korea), Saijo and Shizuoka (from Japan) will take part in the event.