Hue authorities made changes to a defunct policy that aimed to protect and restore Hue-style garden houses.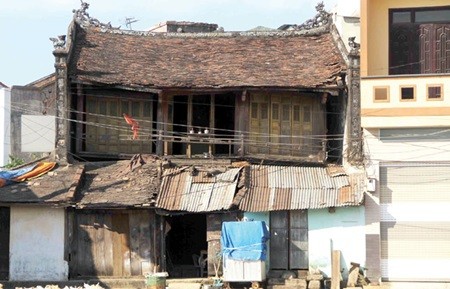 An unsuccessful policy by local authorities has allowed historical Hue homes to languish in disrepair. A unique two-storey garden house is left in ruins. (Photo: VNS)
Following a recent meeting of local policymakers and culture officials, subsidy rates for restoration work given to owners of the garden houses are set to increase. Authorities will also tighten the requirements for disbursement.
Local researchers have said they're concerned about the restoration process, as most nha vuon Hue (Hue-style garden houses) were in need of work, but restoration policies set in 2006 have been unsuccessful so far.
To be a nha vuon Hue, a home must have two distinct elements: a nha ruong (Hue-style wooden house with beams and pillars), and surrounding gardens. They have yards in both the front and back. In the front yard a decorated wall or rock structure blocks bad luck and harmful winds from entering the house through its main door. Between the wall and the front hallway lie pots of flowers, a big fish tank or pond and bonsai trees.
A driveway running from the main entrance gate connects the front yard with the outside road.
The backyard serves as a space for housework and food preparation. The house, front yard, back yard and entry way are always in a shape that preserves the best fengshui structure.
There are often four gardens surrounding the house. Behind the backyard is a garden plot for herbs and vegetables. A small plot linked to front yard often has flowers. The left and right gardens are for perennial fruit trees such as guava, grapefruit, star fruit, peach and areca.
The structure and flora are organised to create a comfortable, safe ambience for the owners, who were often royal family members, feudal mandarins or wealthy people like traders, herbal physicists and tailors.
At its end in 1945, the feudal era left Hue around 7,178 garden houses. But only 150 are still standing in their original shapes, according to a survey by local authorities in the early 2000s. The rest have been worn away by urbanisation, population, and time impacts.
In 2006, city authorities categorized the houses in four types and decided to pay for restoration work on houses that needed it urgently. But after 10 years, only two restoration efforts have been subsidised – and those haven't been completed.
Under the new rules, houses in the best shape would receive restoration subsidies of VND700 million ($32,000).
Many homeowners said authorities had banned them from carrying out restoration work on their own property, but the public funding had never come, so their hands were tied.
"I have never heard of subsidies from local authorities," said Pham Thi Tuy, who owns Xuan Vien Tieu Cung, a 120-year-old nha vuon Hue. Tuy added that her brother in HCM City funded recent repair work on the home's wooden structures.
Policymakers at the meeting were struggling to work out mechanisms for handing out the funding, worrying that homeowners may take the money and not use it on the houses.
This means the nha ruong Hue, considered a key element of Hue's cultural legacy, are becoming increasingly vulnerable.
"The crucial thing is to do the urgent tasks first," said researcher Nguyen Xuan Hoa, a former director of the local culture department. "Many policies made to protect Hue's heritage are more available and effective on paper."