United Nations Organization for Education, Science and Culture (UNESCO) on December 6 officially recognized the worship ritual of the Hung Kings in Phu Tho Province as a World Intangible Cultural Heritage of Humanity.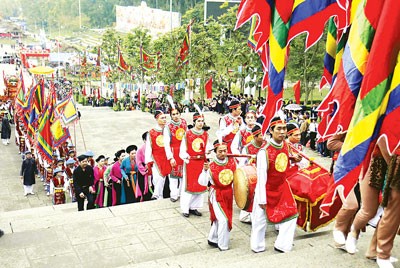 The annual festival to worship the Hung Kings in the Hung Temple in the northern province of Phu Tho
The recognition of the unique ritual to worship the Hung Kings was made at the seventh session of the UNESCO Intergovernmental Committee for the Safeguarding of Intangible Cultural Heritage in Paris on December 6.
Speaking of the cultural ritual worship of the Hung Kings, Ms. Cecile Duvelle, a representative from UNESCO, said the organization had highly evaluated the preparation for the application to recognize the ritual as a World Intangible Cultural Heritage --"Vietnam proved to the world that it is not only the rich countries that can preserve their culture. They can as well and their application to receive this status was well prepared."
According to UNESCO, the addition of the worship ritual ceremony of the Hung Kings as an Intangible Cultural Heritage in the world not only honors the spiritual and cultural life of the Vietnamese people but also encourages other countries to worship their ancestors.
The application for recognition of the Hung Kings worship ritual was among 37 records submitted at the seventh UNESCO conference on December 6. The application included maps, historical documents and scientific research reports, stating that worship of the Hung Kings was a symbol of ancient culture and belief that has strengthened the country over the years.
The worship ritual ceremony was inspired by the legend that Vietnamese people originated from dragons and fairies. The entire ritual is dedicated to the Hung Kings, the nation's legendary founders, and has been in practice for thousands of years--now deeply embedded in the psyche of the Vietnamese people.
The worship ritual ceremony is performed as part of an annual festival on the 10th day of the third lunar month.