Khieu Thi Huyen Trang won the contest of Vietnam's Next Top Model in Ho Chi Minh City on January 23.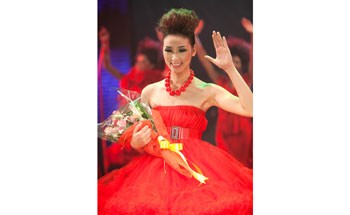 Model Huyen Trang
The beautiful 1.78m tall, 21 years old, from the northern province of Bac Giang gave an outstanding performance on the final night at InterContinental Hotel.

She was one of the top three candidates and triumphed over Tuyet Lan and Thu Thuy to become the winner of the contest.

The competition is a Vietnamese version of the US reality television show 'America's Next Top Model', aired by CBS Studios International.

Launched just four months ago, the show gives a chance to thousands of contestants to compete for the title of Vietnam's next top Model and to further their career in the modeling industry.

The jury chose the top 15 contestants while they lived together in a house for two months with cameras recording their interpersonal relationships and behavior throughout that period.

The winner will appear on the cover of F magazine and receive an exclusive two year contract worth US$50,000 from an international modeling agency, a model training course in the US and many other prizes and gifts.