Regis Wargnier, French director of famed "Indochina" shot 15 years ago in Viet Nam, told Sai Gon Giai Phong about his love for the Southeast Asian nation and his new film, set to be shown at the upcoming festival "Overview of French Movies" from 11th to 18th this month in Ha Noi and Ho Chi Minh City.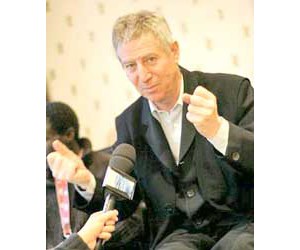 French director Regis Wargnier
Sai Gon Giai Phong:
"Pars Vite et Reviens Tard" the thriller movie to be shown during this festival seems to be different from other US movies.
Wargnier:
US films invest significantly in grandiose scenes, movie magic, and stunts, but are somewhat lax regarding character development. We do not have as much money so we only concentrate on the richness of the characters' psychology.
SGGP: 
In this film, Vietnamese-French actress Pham Linh Dan stars as Camille. What do you hope to communicate to viewers by using an Asian actress, or was this choice made simply because she starred in "Indochina"?
Wargnier:
Camille does not appear much in "Pars Vite et Reviens Tard," and thus the character must really impress the viewers. I've known Linh for a long time, and knew that she was ideal for this role. Her face is unique and will be memorable to viewers after seeing it only once.
SGGP:
The scene where Camille reveals her bare breasts next to her lover in "Pars Vite et Reviens Tard" is designed to expose female Asian beauty, or is it a way to express romance in French movies?
Wargnier:
The story plots automatically lead to this scene—it's not that I want to display the beauty of Asian women. This scene is only aimed at demonstrating the contrast of intimacy and distance, mystery without flamboyance.
SGGP:
You were once highly appreciated for your excellent portrayal of the combination of Asian and Western culture, as well as tradition and modernity, in "Indochina." Do you plan to continue exploiting Asian traits?
Wargnier: Not right now. But, why not?
SGGP:
Following "Indochina," were you still interested in Viet Nam?
Wargnier:
I am of French citizenship but for a long time have considered myself an international citizen. Moviemaking helps me discover cultures in general and each nation's cinematography in particular.
I love Vietnamese cuisine very much. When in France, I often eat Vietnamese food, and reserve a lot of affection for Vietnam. I always pay attention to your country.
SGGP:
If you make another film about Viet Nam, what would it be about?
Wargnier:
Since the first time I set foot in Viet Nam in 1989, I have seen that Viet Nam is changing vigorously, which is especially shown in the young generation. The important thing is that you can preserve your national spirit and culture. I have seen many interesting stories about Viet Nam which can be made into movies.
SGGP:
Thanks