The 800 square meter library is friendly decorated, housing over 20,000 various kinds of materials of which there are 5,000 latest magazines about culture, fashion, sport, tourist guidance and literary works and 1,500 CDs and VCDs. This is cooperation between Institute for Cultural Exchange with France (IDECAF) inaugurated the IDECAF multimedia library located at 31 Thai Van Lung Street, District 1, Ho Chi Minh City.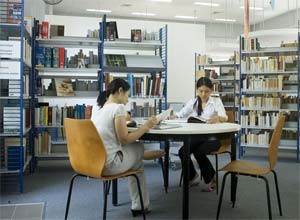 readers are reading books.(photo:Trung Nam)
In addition, the library will host cultural exchange programs open to the public such as the spring poetry festival, Francophone week and book festivals.

The library has been open to the public since 1960. Annual library cards cost VND 100,000 for adult and VND 40,000 for children.