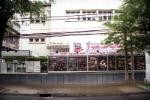 IDECAF is located in Le Thanh Ton Street, HCMC
The Socio-Cultural Bureau of Ho Chi Minh City People's Council has worked with Thai Duong Art and Theater Co., Ltd (usually known as IDECAF Stage) on management methods as well as investment plans to improve its performance quality.
Director Huynh Anh Tuan said that IDECAF is currently planning a program for a water puppetry stage, to be completed this June.
IDECAF is one of the few private performing units in Ho Chi Minh City to effectively operate with the policy of encouraging the participation of the non-state sectors.