Sommer vorm Balkon (Summer in Berlin), the film that won the 2007 German Film Critics' Best Screenplay award, will be shown at Ho Chi Minh City's Institute of Cultural Exchange with France, or IDECAF, on July 7.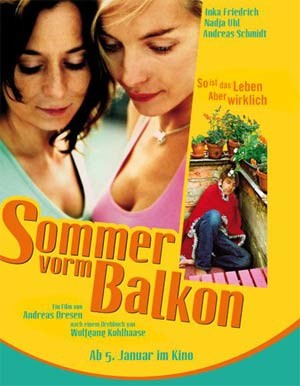 A poster of "Sommer vorm Balkon"
It is directed by Andreas Dresen, winner of 24 international and German awards, who describes the film as a heartwarming comedy.  
It tells the story of two friends and neighbors, Katrin and Nike. Katrin is divorced and looking for a job while raising her adolescent son Max. Nike, a kind and hard-working nurse, works at a home for the aged.
They usually spend their evenings on the balcony philosophizing about life and love, and the men who put them in their difficult situations.  
When a trucker nearly runs over Nike and then proceeds to win her heart, everything changes and the women appear to drfit apart, as everyone simply tries to find a bit of happiness for themselves.
Tickets cost VND15,000 and are available at IDECAF. 
The film is screened as part of a monthly cultural program by the Goethe Institute Vietnam to promote German culture and entertainment in Vietnam.